If you have a long overlay at Amsterdam Airport Schiphol during your international flight we can offer you Holland Private Tours from Amsterdam Airport to the Amsterdam City Centre or we'll show you the splendid Dutch countryside. So see Holland and do the Amsterdam city tour!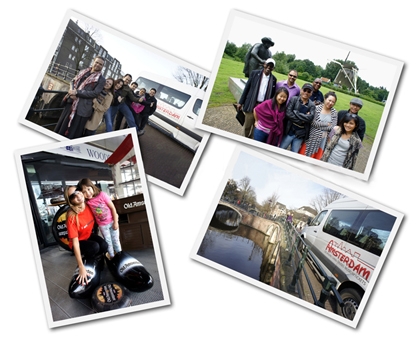 ¿Tiene mucho tiempo de tránsito al aeropuerto Schiphol? En muchos casos se puede salir del aeropuerto Schiphol. Holland Private Tours les ofrece la posibilidad de realizar una excursión a Amsterdam u otro lugar de interés cerca del aeropuerto durante su tiempo de tránsito. No obstante, no siempre está permitido salir de la zona tras los controles de pasaportes. En algunos casos se requiere un visado. Infórmese bien de los requisitos antes de viajar.
Holland Private Tours would like to answer all your questions before you make a reservation. These can be about dates, times, tours, combining or extending tours, special requests, pick up's, drop off's etc.
If we will meet you at the airport we would like to know your flightnumber to return you to Schiphol in good time for your onward flight. All you need is the time and the interest and we will do the rest.
Don't be shy, ask us for information. All information about Amsterdam is free.
You can book a tour on the same day or when arriving at you gate.